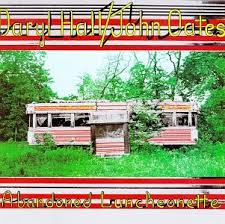 Daryl Hall and John Oates released their first album in 1972 which was ultimately a failure and was recorded in their beloved city of Philadelphia. They ultimately blamed the city for the failure of the album and decided to move to New York to record their sophomore album, Abandoned Luncheonette in 1973. Unlike their albums in the late 70s and 80s, both Daryl Hall and John Oates contributed to the actual singing in the tracks rather than Hall being predominately the lead and Oates being a backup singer which makes their first few albums unique. Abandoned Luncheonette wasn't necessarily a huge commercial success either compared to their pop rock albums of the 1980s. The album had one song, She's Gone, that entered the Billboard charts and peaked around spot number 7 in 1976, three years after the initial release of the album. Overall, the album still wasn't as successful as Hall and Oates would have wished for, but now people acclaim this album to be an essential for any Hall and Oates fan along with the biggest album of their career Voices which was released in 1980.
9. Laughing Boy
Laughing Boy is a song about someone who has ultimately failed and is just laughing through the pain. Hall accuses the boy's laugh of being fake and that he is actually hurt inside and is trying to ignore it by laughing through the pain. The lyrics tell a good story but just isn't one of my favorites on this LP which is why it sits at number 9 on my ranking.
8. Lady Rain
The very beginning of this song, I swear is the exact same instrumentals as the hit song, Hey, Soul Sister, by a more modern band, Train. Ironically Hall and Oates went on tour with Train this past year, so maybe Hall and Oates heard the resemblance as well and liked it, who knows. The song isn't terrible, just not one of my favorites by them, but does a good job of transitioning into the follow up song Laughing Boy.
7. Everytime I Look At You
I love the initial guitar solo to introduce the song and then the vocals by Hall that follow pretty quickly after the solo create an atmosphere of a bar in the 70s. The song as a whole is very sad if you analyze the lyrics in depth but it sounds really good in my opinion no matter how sad it is. The guitar element sort of reminds me of the intro to George Lopez in some parts of the song, not sure why, but it does. The song is the longest on the LP and sits at seven minutes and two seconds. After the second guitar solo the song shifts from a more melodic song rather than a guitar heavy song which makes this song so unique. They even managed to add other instruments such as the fiddle and banjo for the final bit of the song.
6. I'm Just A Kid [Don't Make Me Feel Like A Man]
John Oates stars as the lead for this song and does a really good job. The song is very heartfelt and I'd recommend it if you wanna here something different from their discography.
5. Abandoned Luncheonette
The title track of the album, Abandoned Luncheonette, didn't disappoint. The song is a love song believe it or not. It is about the place where the young lovers met. One was working at the diner and the other was a customer, but as years passed they grew old and the luncheonette shut down. The song opens up with the two, now aged lovers, in the old and abandoned luncheonette reminiscing about the past. The lyrics tell an amazing story of the two lovers and I highly recommend it.
4. Las Vegas Turnaround [The Stewardess Song]
Once again another great guitar opening by Hall and Oates. The song uses the name of Hall's then girlfriend Sara, who would also appear in other songs such as Sara Smile. The song is about a girl who is always on the move and is always moving without warning. They never know where she will be or end up. The harmonies of Hall and Oates make this song one of the greatest songs they have put together.
3. Had I Known You Better Then
Had I Known You Better Then is another sad song about wanting to tell someone how you feel, but you missed your shot and now they are no longer available. John Oates does a great job in this song and every song where he is the lead which is why I'm confused on why they stopped using him later in their albums and only predominately used Daryl Hall. Had I Known You Better Then is another classic song by Hall and Oates.
2. She's Gone
She's Gone is by far the saddest song Hall and Oates have ever written and released. It's about the struggle of moving on with your life when your significant other leaves you. They mention how every little thing reminds them of their loss and is truly a heartfelt song and definitely a classic by Hall and Oates. Hall and Oates were asked to come onto MTV to preform this song live at a "dance party," but Hall and Oates made up an excuse for why they couldn't make it and they were asked to come in at a later date. They did come in for a music video of sorts, which was very comical and made MTV very angry and they refused to release the video on Live TV, but because of YouTube we are able to see it and I will leave a link to it underneath and I recommend watching it.
1. When The Morning Comes
The most catchy and overall favorite by Hall and Oates, When The Morning Comes, claims the number 1 spot. Once again this song is actually very sad, but has a positive message. They are saying no matter what happens to you during that day, once you go to bed and wake up the next day everything will be alright. It has the hint of positivity that this sort of depressing album needs and is a good song to start off the day.
Abandoned Luncheonette is an excellent album as a whole. Laughing Boy and Lady Rain are the only two songs that aren't as great as the others, but besides those two every other song is very good. I'd give the album a score of 4.4/5 and is definitely my favorite Hall and Oates album up to this date.