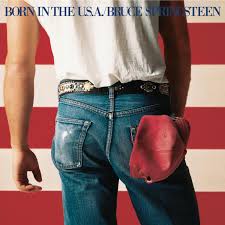 Bruce Springsteen's seventh studio album, Born In the U.S.A., produced hit after hit after hit, but did not have a number one song on the chart. Over the years Bruce Springsteen struggled to get radio play do to the length of a lot of his songs, but with his breakthrough single, Born to Run in 1975, helped skyrocket Springsteen into the mainstream rock radio. After the success of Born to Run, the single and later the album, he released three more albums prior the 1984 album, and got his first #1 album with the 1980 release of The River which spawned the hit Hungry Heart. Bruce Springsteen up until this point was known for having a very hit or miss type of song writing and mainstream playability with each of his songs until 1984. Born In the U.S.A. achieved seven songs in the top 15 of the mainstream charts out of the twelve on the album which caused the album to peak at the top spot and stay on the charts for over two years. Bruce Springsteen has stapled himself as not only one of the greatest rock performers of all time, but also one of the greatest song writers of all time.
12. Darlington County
Darlington County is a good song, don't get me wrong, just not a stand out or something that would top any of the other songs on the album. Darlington County seems to be about getting up and leaving and going to "Darlington County."
11. Working on the Highway
Once again, Working on the Highway isn't a bad song, its just not better than the other songs. Working on the Highway is about a man working on the highway. I just thought I'd make sure that was clear.
10. Cover Me
Cover Me is another fairly short song on the album that also received a great deal of success on the radio, but in regards to that I just felt it was played too much and I got tired of it. It is still a good song that's about staying inside with your significant other rather than going out on the town.
9. Glory Days
Glory Days is one of two songs on this album that is looking back into "better times" or as Springsteen would say "glory days." In Glory Days, Springsteen goes through different encounters he had with people he hadn't seen in a while and all they can talk about are their younger years. The song presents a message of enjoying your "glory days" before they pass you by and I try and live by it.
8. Born in the U.S.A.
Unlike popular opinion/thought, Born in the U.S.A. is the opposite of a patriotic song. The only patriotic thing about the song is the title. Born in the U.S.A. is about the Vietnam War and the angers the people had along with it. Just like Glory Days and Cover Me, which were both commercial successes, Born in the U.S.A. was just overplayed, but it is still a great song with a great hidden meaning that many don't know.
7. I'm on Fire
Another one of the more successful songs on the record, I'm on Fire may come off a little creepy upon first listen, but the song is about someone having an affair with the man Springsteen is writing from the perspective from, I believe. He can't stop thinking about this girl and continues to wonder why she won't just be with him and instead has to be with this other guy while also "being with him." A very short song compared to other Springsteen classics, but overall a good listen if you know the possible true meaning.
6. Dancing In the Dark
Overall the most successful song on this record and was also the song he almost left off the record for being too poppy, Dancing In the Dark peaked at #2, but is only placed at sixth on my chart and you might ask why? Well the real and honest truth is that…. It was overplayed too much. It is a good song don't get me wrong but just the same as the others above, they were just overplayed. Dancing In the Dark is just about having a good time pretty much.
5. I'm Goin' Down
The song about mixed signals, though repetitive, it is a catchy type of repetitive. Springsteen sings once again about a girl, but this time not one that has left, but one that has stuck around but continues to seem uninterested and he wonders if they lost love. The full E-Street band really make this song the powerful song it is.
4. Downbound Train
Downbound Train to me is just sort of hard to explain why I like it so much, but I do. The song is very very very sad. Springsteen sings about losing your wife and your job and nothing seems to be going right for you. The man in the song gets a faint thought that he and his wife would get back together to only be misconstrued and disappointed.
3. No Surrender
No Surrender starts out with one of my favorite lyrics of all time, "We learn more from a three minute record, baby than we ever learned in school," which I do believe is true in most cases. Music can be a better teacher in some cases, depending on the situation of course. No Surrender is about not giving up and falling the normalities of everyone else and to do your own thing. Overall a great song and great message to live by.
2. My Hometown
This heart-wrenching song about watching your hometown lose everything that it once had such as the people, the jobs, and the stores you'd used to visit, really tugs at your heartstrings. Not only is Springsteen reminiscing the past, he is showing his son around this once great town that has nothing left to offer and it really hurts him emotionally and even thinks about leaving his town, but can muster up the strength to move on from the past. The song is the slowest on the album and I think wraps up the album perfectly.
1.Bobby Jean
Bobby Jean is another song with a hidden meaning and that as well as the overall feel of the song is why it received the top spot on my listing of the album. Bobby Jean on the first, second, third, fourth, and maybe fifty listens in and still you won't be able to find the true meaning of the song which is in fact not about a girl leaving but one of Springsteen's best friends, Steven Van Zandt. Van Zandt, the lead guitarist of the E-Street Band and one of Springsteen's closest friends, decided to abruptly leave the band for a solo career and it really took a toll on Springsteen. He wrote this song to show that he will never forget about "Lil Stevie" and that he isn't begging him to come back with the song, but just hoping he is doing well.
I honestly can't say I dislike any song on this album. There is a reason that this is probably his most essential album to listen to and even the higher ranked songs on my list are still great. I just enjoy the non-mainstream songs more that's all. In conclusion I'd give the album a solid score of 9.1/10, but keep in mind that I am fairly biased towards Springsteen, but still a great album.