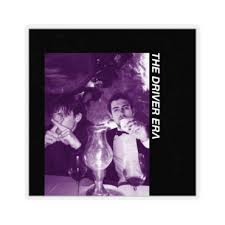 The Driver Era, consisting of former Disney Channel star Ross Lynch and his brother Rocky Lynch, formed in early 2018 after the hiatus of their previous band, R5. The former Disney Channel star, Ross Lynch, formed R5 with his four other siblings. R5 amounted to 4 songs being placed in the Billboard Hot 100 and also having a top 10 hit in "Let's Not Be Alone Tonight" which is why it was a shock when R5 announced their hiatus. Ross Lynch and Ryder Lynch then decided to form a new band, The Driver Era, with a whole different sound that isn't the usual pop radio hits that R5 put out. X came out in June of 2019 and was relatively successful. It wasn't chart topping by any means, but received a good critic score. This album has been on nonstop repeat since I found it just last week and to fully get the feeling of the album, I recommend listening to it from start to finish, but also individual songs are good as well.
10. Welcome to the End of Your Life
I'm going to be honest, I like this song. This was the first song I found by them and was immediately hooked. It has a very relaxed and haunting tone and has a 90s punk-rock sound to it. It is far different than anything on the album, which makes it good and stick out. The song is pretty self explanatory for the meaning and if you listen to it once I'm pretty sure you will get the meaning, death.
9. San Francisco
San Francisco is yet another shift in sound for them. It is a very relaxing song that will get you into your feels a little bit. Ross writes about a former lover he had and the good times they had in San Francisco and how he misses it. The faint guitar with the echoey vocals really brings the song together.
8. Preacher Man
Preacher Man, their first single, is a polar opposite of that of San Francisco. It has everything an R5 song would have, a fast and upbeat melody with a killer chorus. Preacher Man seems to be a song R5 song that was never released and deserves the love that it would have never gotten with R5. Only 3 songs into the review and each one sounds totally different.
7. giveuwhatuwant
Initially when listening to this song, I truly thought it was ZAYN. giveuwhatuwant screams ZAYN to me, not sure why but it does which means it is an amazing song because I love all of ZAYN's material, especially anything from Icarus Falls. This song has a similar sound to Preacher Man just slower still a great tune.
6. Low
Low is another underrated song on this album. Rocky brings in some nice synths as well as just a few guitar chords, which bring the melody together. The song is heavily echoed and distorted, but that just makes it sound even better.
5. Nobody Knows
Originally my favorite song on the album, Nobody Knows will get you up and moving. I don't know what it is about this song, but it just makes you feel good, "nobody knows" why. I thought that was clever. The pre-chorus is a perfect buildup for the chorus which has the effect of a beat drop and to top it off there is a synth and drum solo in the middle of the song. Rocky Lynch is one of the best at putting all these different sounds into one solid song.
4. Natural
Natural, I believe has every possible sound or synth you could add to a song, but yet it sounds amazing. Once again I don't know how Rocky Lynch does it, but its flawless. Ross and Rocky like a girl that keep it natural and is down to earth. Natural is going to be on repeat in my car for awhile.
3. Scared of Heights
Scared of Heights starts out with a Post Malone type guitar intro and slowly transitions into the chorus which is very catchy I might add. Scared of Heights I believe has an underlying sad tone about continuing to pursue people specifically females and then continuously being broken afterwards. Yet he continues to fall into the same trap over and over again because he is never satisfied. Overall an amazing song an suggest a listen.
2. Afterglow
Afterglow, yet another feel good song. Afterglow is about the feeling you get when you are with that special someone. In the song, Ross goes through the dates that they had and how it made him feel and how he is trying to figure out if she is the one that he will spend the rest of his days with. Rocky once again brings a great mellow guitar behind Ross' vocals and it brings it all together.
1.Feel You Now
Feel You Now immediately flew off the page when I initially listened to it. The first verse and pre-chorus has a haunting sound with a sweet bass to go along with it. After the pre-chorus the song does a complete flip and is one of the most upbeat on the album. Feel You Now even has a minor trumpet solo, in an alternative song?, surprisingly yes. This Rocky and Ross Lynch masterpiece is about putting it all out on the line for the night and having fun.
I wish I would have known about this album during the summer, that's all I'm going to say on that. I would have had this album blaring with the windows down 24/7. Overall this album really jumped at me and stands out to me in so many ways. If you like alternative or pop or even a little bit of rock music this could be the album for you. I give it a solid 9.6/10, one of the best scores I have ever given.