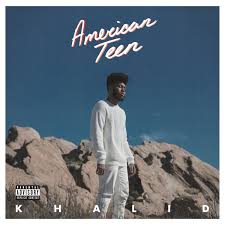 Khalid burst onto the scene with his first release and first hit song, Location, at the young age of 18. Khalid rose to stardom while he was still in high school. The young R&B/Pop star wasn't done with his first release and followed it up with a hit record, American Teen, which peaked at #4 on the Billboard Hot 100 which is very impressive for a young inspiring artist. American Teen goes through the thoughts and feelings as well, an American Teen. The album as a whole was successful especially to younger audiences, who relate to the events of high school.
15. Coaster
It's tough to put any song from this album in the 15th position, but when an album is so well done, someone's got to sit at the last spot even though it isn't a bad song. Coaster is a sad song about trying to get over someone and how initially it'll feel as if you are on a roller coaster through your emotions, but in the end you can do better.​​
14. Keep Me
Keep Me is another song about loss of love and more despair. Khalid likes a girl and he does anything to please her even if he doesn't particularly like doing it. In the end he messed it up by trying to be more than friends and he is reminiscing about the past.​​
13. Therapy
Once again, a sad song. He is mesmerized by a certain person and only their "therapy" can cure him of his obsession. He just wants to have a fling with this certain girl to help him move on essentially.​​
12. Winter
Winter is a very somber song. Winter is essentially a song about a break up which happened to be in the winter and he just talks about how it's harder to get over someone in the dreary winter when there isn't much to be happy about.​​
11. Hopeless
Hopeless is a good song, maybe even a great song, but on American Teen it's an 11 which just supports the fact of how impressive this album is. Hopeless is a song about how he is hopelessly in love with someone who isn't interested anymore in him and he feels stranded.​​
10. Let's Go
Let's Go is a very upbeat song which contradicts some of the other songs on the album. Let's Go is about getting up and doing something and just having a little fun. Khalid said in an interview that his mother almost killed him after she heard the first line of the song which I thought was funny. But all and all, this song is honestly a good message for people who stress out over things, instead of stressing he would just say "Let's Go!"​​
9. Angels
Angels is the most heartfelt song on the album with a beautiful piano along with the chorus. The Angels help him continue even through hard times.​​
8. Young Dumb & Broke
Young Dumb & Broke is a very catchy and honestly very relatable song, especially as a high school student who is honestly young, dumb, and broke. Young Dumb & Broke is one of the hyped songs on this album and I understand the hype behind the song, but I don't believe it deserves to be super high on the ranking because of the volume of great songs on the album. Overall still a good song.​​
7. Saved
Saved is one of the songs on this album that is overlooked in my opinion. He is trying to get over a girl after being together for a long time. He is saving her number because he is hoping that she calls him eventually or he decides to call her eventually. His phone in general just has so many memories of this girl and every time he uses it, it reminds him of the good times.​​
6. Another Sad Love Song
I love the title of this song because it implies how he understands how many of the songs on the album are sad songs. It adds a comedic element to the album and the songs ends up being sort of a mix between a sad and upbeat song.​​
5. Cold Blooded
Cold Blooded is about an abusive relationship he was in. He felt as if he did everything for her and he did nothing for him, she was truly cold blooded hence the title of the track. He believed that she was only using him for her own needs rather than his even though he cared so much for her. Cold Blooded is one of my favorites that he has ever released.​​
4. American Teen
American Teen, the title track, is a great track to start out with. The song starts with an alarm which signals the start of a day particularly for an American Teen. He then goes through the day and sings about his thoughts and feelings as an American Teen.​​
3. Location
Location deserves being high on the list, especially since it was his first song ever released. He wrote this song about his high school girlfriend he had at his previous high school before he moved to El Paso, TX. Location Is by far one of better songs he has ever released and if he ever has a "greatest hits" album, I can assure you this will be right at the top.​​
2. Shot Down
By far the most overrated song on the album. Shot Down is another sad one sided love story. He is and would do anything for this girl to please her and continuously she shoots him down. The more he spends time with her the worse it gets and when they grow apart it only hurts him more, so it is a lose lose for him.​​
1. 8TEEN
8TEEN is a truly amazing song about the life of an 18-year-old. The song's theme is like that of American Teen, but specifies in the life of an 18-year-old. The chorus is one of the best choruses I've heard in a while. It has the perfect balance of being catchy, but not too catchy that you start to get annoyed the more you hear it.​​
American Teen was truly a revolutionary album for up and coming artists showing that anyone can do it, no matter the age. American Teen deserves a solid 9.6/10, which might be the highest score an album has gotten up till this date. I strongly suggest that you check the album out no matter the genre you are interested in. It has a good distribution of sounds, so it doesn't feel like you are listening to only one genre.