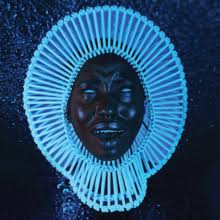 Donald Glover is a man of many talents whether he is producing his very own TV show, starring in a film, doing stand-up comedy, or releasing quality music content for his fans. Donald Glover preforms under the name Childish Gambino with him debuting his first EP in 2011.
Donald Glover's career was already on the rise in 2011 where he was a star in the hit comedy Community which aired for six seasons. Around the time of the beginning of the fifth season Donald released his new album and decided to call it quits on Community and focus on his music. Donald Glover or should we say Childish Gambino, started out his career as being strictly a rapper, but as he and his music matured, he started writing more heartfelt songs that fit more of the genre of R&B. He started introducing his new style with the release of his EP Kauai, which featured a different sound compared to his previous release Because The Internet. He finished the switch to R&B with the release of his third and quite possibly his final album release, "Awaken, My Love!." "Awaken, My Love!" gained a great deal of attention with the album being nominated for several Grammys and one of the songs, Redbone, won a Grammy by itself. Childish Gambino has gone through a slew of different sounds and talents and sadly I think this is it from him and music as he wishes to focus on his acting career even though he loves music. I feel like this album is impossible to rank because it is an album that you must listen to song by song. None of the songs have a correlation with the other like an album such as Abbey Road had with four songs playing into one another. So, below I am just going to put the songs in order on the album and say a little about each one. I hope you enjoy!
Me and Your Mama
Me and Your Mama is the perfect start to this album. The first 2 minutes of this 6 minute gem is just a beat behind some sounds and background singers. Once the song hits 2:02 the beat drops and Childish Gambino is back with a soulful new sound.
Have Some Love
Have Some Love is a very slow song compared to other songs on this album. Childish Gambino is just trying to get across the meaning of love and that we should spread it more. This song has a heavier organ type sound that isn't present on any other song. The chorus is what will draw you into this song and I strongly suggest you give it a listen.
Boogieman
Boogieman is a strange, but good song. That's all I really have to say about it, but you should still listen to it to understand what I'm saying.
Zombies
Childish Gambino decided to use a heavier set of strings on this song with a heavier beat than any of the other songs. This is a strange song too, but I think there is an underlying meaning to this song. He continues to mention people being Zombies that just want your money, so maybe this song is about people who only try and befriend him or reach out to him because he has money. A very sad possible meaning to a strange song.
Riot
Riot is a short, but sweet song that doesn't wait long to get to the point. The song is very chaotic with a lot of things happening at once which I think is why the song is called Riot.
Redbone
Redbone is the most popular song from this album by far and is usually the song people think of when they see this album. It is also why I decided to listen to this album in full. Redbone is just a groovy tune and sorry for using the word groovy, but that's the only way I could think about describing it. When I initially listened to the high pitched, but beautiful vocals, I thought no way this could be Donald Glover singing this. So until I saw him perform this song on Saturday Night Live I thought he had hired someone else to sing this. All I can say is that this man can sing, no joke. Check this song out.
California
California is essentially the exact opposite of song sounds than Redbone. California uses a much more mellow bass and Childish Gambino also incorporated some interesting sounds that sound like people blowing into bottles which is actually really cool. Gambino decided to use a deeper vocal sound on this song rather than his high-pitched sound as on Redbone. A very good song nonetheless.
Terrified
Though Terrified and California don't actually play into one another it almost sounds like they do. Terrified is another song with a heavy bass which seems to be a theme on this album. Childish Gambino expresses his vocal range in this song as well. He gives off a spooky vibe in this song though compared to the others.
Baby Boy
Once again Childish Gambino expresses his voice in Baby Boy. Baby Boy has a heavier drum sound and more strings. The song is from the persona of a woman where she is on the verge of losing her son. Not sure if she is losing him to custody issues or maybe he is being taken by child services, not quite sure. It is definitely a sadder song on this album and I'd like to know where Glover got his inspiration for this song. The ending of this song is the best part with all the different instruments playing the melody.
The Night Me and Your Mama Met
The raw sound of the guitar at the beginning of the track really drew me in to see what he was going to next with the song. This solely instrumental track is truly beautiful. Recommend giving it a listen.
Stand Tall
In Stand Tall you can really hear the raw vocals Donald Glover has to offer. Stand Tall is a very inspiring song about believing in yourself and never giving up on your dreams. About halfway through this song shifts sounds with more electronic sounds and instruments, but still sending the same message.
"Awaken, My Love!" is just so much different than anything I have ever listened to. Not one song on this album sounds at all like the previous track. Childish Gambino has done it again by dropping yet another amazing album. I give this a score of 9/10. The album pays tribute to so many previous R&B and Hip Hop sounds that have been forgotten. Childish Gambino continues to influence people around him with his sense of style and way about life that many celebrities don't share.