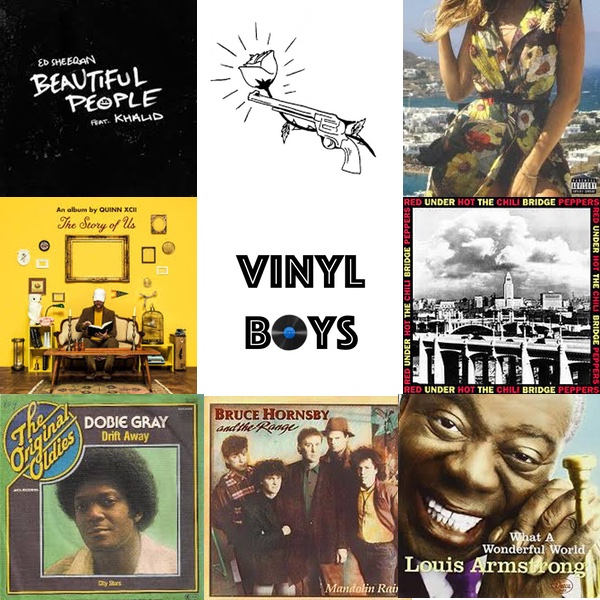 In this weeks addition of Single Tuesday, you get a mix of emo pop, pop rock, alternative rock, and jazz. This addition gives you the perfect mix of many styles of music. Bryce Vine, Quinn XCII, Ed Sheeran, and Bohnes all combine for the recent releases with the Red Hot Chili Peppers, Dobie Gray, Bruce Hornsby, and Louis Armstrong filling in the older songs. I hope you enjoy this good mix of songs and as always links to the Song Reviews playlist on Spotify and Apple Music will be below which includes every single we have reviewed.
Beautiful People – Ed Sheeran w/ Khalid
Ed Sheeran's single off of his newest album seems to be the highlight of the album. With the inclusion of Khalid, Ed Sheeran has made the perfect pop song. A good beat and instrumentals followed by Khalid and Ed Sheeran makes the perfect song. Didn't know I needed a Khalid and Ed Sheeran collaboration till now.
Guns and Roses – Bohnes
The former lead singer of The Cab, redirected his career into a solo career taking the stage name of Bohnes. Under his new persona he has released two albums, Act I and Act II. The song Guns and Roses was one of his first singles from Act I and first singles as a new artist. Guns and Roses stands out to me in many ways. In this song, he stuck to his old ways of The Cab by having a poppy chorus around strong instrumentals. The Cab had great success with this style of music and this is still one of Bohnes' most popular songs. I love the use of the lyrics "You've got an Appetite For Destruction," due to the fact of it being a sort of Easter Egg in the song. The Easter Egg is that the song Guns and Roses is the name of a late 1980s band who's first album was in fact Appetite For Destruction, which was released in 1987. I thought maybe you'd enjoy that because I did a lot. Overall an amazing song.
Drew Barrymore – Bryce Vine
Bryce Vine's hit single Drew Barrymore has the perfect mix of pop and hip/hop that really draws attention to the song. Drew Barrymore is a catchy song about summer love. Bryce Vine, a new up and coming artist, has a lot of momentum off of this song heading into his new new album Carnival, which is released everywhere on July 26th.
Flare Guns – Quinn XCII
Quinn XCII's song Flare Guns is about continuing to dial that number that is just not good for you, that meaning his ex. The Flare Guns is his conscious telling him not to call her but he always does. He also brings in a female vocalist to tell the story from her point of view. Quinn XCII never fails to disappoint.
Under the Bridge – Red Hot Chili Peppers
Under the Bridge might be THE song of the 1990s. It pairs the slow aspect of Power Ballads from the late 80s with the new style of sound of the 90s. Quite Possibly one of my favorite songs of all time. RHCP's do a great job with the catchy chorus and the proper time to speed up the song.
Drift Away – Dobie Gray
Dobie Gray's song, Drift Away, has been stuck in my head for the past week and a half, so I thought it was only fitting to include this song in the single reviews. Drift Away is one of the catchiest songs of all time with the iconic lyric, "Gimme the beat boy and free my soul, I wanna get lost in your rock n' roll." This song is perfect for a jam session or a fun car singalong playlist.
Mandolin Rain – Bruce Hornsby & The Range
Mandolin Rain isn't Bruce Hornsby's most popular song, but it might be his best. Mandolin Rain illustrates the feeling of pain of remembering the past. Mandolin Rain signifies the recollection of a previous relationship, where his significant other left him. This song is perfect to fall asleep to and by accident I actually played this song on repeat all night and I slept great. I thought maybe you'd like to know how I slept.
What A Wonderful World – Louis Armstrong
Louis Armstrong is one of if not the greatest jazz musician. What A Wonderful World is a song you can appreciate no matter what style or genre you enjoy listening to. The beautiful lyrics and the soft deep voice of Louis puts this song heads and shoulders above the rest. Louis Armstrong really is one of the greatest of all times in all of music.