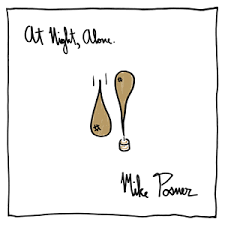 Mike Posner the one hit wonder, the artist that everyone forgot about, "the cooler than me guy" was silent for almost 5 years after the release of his album 31 Minutes to Takeoff in 2010 which included the hit Cooler Than Me. Mike Posner came back firing in 2016 with the surprise album "At Night, Alone." Mike Posner changed his former poppy self to a more stripped down somber artist. At Night, Alone is the perfect album for well, it's pretty self explanatory for when you should listen to it and he even releases a 15 second introduction to the album explaining just that. At Night Alone contains 10 tracks, an intro, outro, and 6 remixed tracks. For once the remixed tracks add a different sound to each track and aren't awful. The remixes of each song are just a more upbeat and poppy version of the song which goes back to Mike Posner's early days of an artist. For this review though, I will only be looking at the main tracks for this in depth album review. The album ended up peaking at #12 on the Billboard 200 charts and had one top 5 hit in "I Took A Pill In Ibiza."
10. Only God Knows
Only God Knows brings in a church sound into his album that isn't bad, but just not my favorite on the album. The song is about having someone to rely on and only God knows what is actually troubling Posner. Mike Posner does a great job of telling a story in every song, including this one, and continuing to give vivid detail by using less words, but still getting the point across.
9. Buried In Detroit
Buried In Detroit might be one of the saddest songs on the album. In the song he reminisces his life and his decisions and where he's been. After he reminisces, he recalls his father's death and where he is buried which was Detroit. Mike Posner brings in an Orchestra sound for this song which really makes the tone sadder. Buried In Detroit is a song about life and the ending of it. If you are interested in this song, I suggest you check out his song "January 11th, 2017" on his newest LP which is also about his father's death.
8. One Hell Of A Song
This is the only song with an upbeat and positive meaning on the album. In this song, Mike Posner tells his thought process of writing a song while writing a song. I thought that it was really cool how he managed to explain it while still making it a catchy song. He also mentions how he writes songs for Snoop Dogg, Justin Bieber, and Shawn Mendes which I found interesting. The song also has a sweet guitar solo from "James" whoever that is.
7. Iris
In Iris, Mike Posner realizes the struggle of being not enough for someone you love who happens to not love you back because of certain features of you such as height, eye color, hair color and more. The Iris in the song is a metaphor for her love towards him. As he said in the song "it was pretty in May, but it died in June." He is essentially calling this girl a liar for saying that she loved him when in reality it was all a game. A very slow and relaxing song, but sad all in the same.
6. Jade
Mike Posner's "hate" song of this girl that he met, who's name happened to be Jade, is about her and her destruction to him. She caused him so much trouble and he couldn't do much about it. Mike Posner's synthy vocals on this track is very different then any other song on the album. The song is said to be inspired by the style of Black Sabbath's song War Pigs, which sounds similar to Jade.
5. Not That Simple
Mike Posner's song Not That Simple is about the struggle of getting over someone that you had a relationship with and no matter how hard you try and forget the memories and the time you all shared it's not going to go away and it is "Not That Simple."He blames himself for the loss of the relationship by being a jerk when his song went on the radio and not understanding how much of a toll the relationship would take on him. Mike Posner in all of his songs, but this one in particular does a great job of mixing electronic sounds with the regular instrumentals.
4. In The Arms Of A Stranger
Mike Posner wrote yet another song about trying to get over someone. In The Arms Of A Stranger is about trying to move on from a person by getting back out in the dating game, but every time all you do is reminisce the past and the person you are with is seen as a stranger to you. The person you really want to be with doesn't want to be with you, so you try and fill the void with other people, but it doesn't work.
3. I Took A Pill In Ibiza
The original version of this song provides a major shift in what the radio version of the song sounded like. The song has a more somber tone when in this form and really gets to the point of the song, which is trying to fight depression with material things or things that'll make you look "cool." When all is said and done, Posner only knows sad songs to sing.
2. Silence
Mike Posner's song Silence is about the struggle of managing work and a relationship and how it isn't working out for him. The silence is killing him from being away from his former significant other and she doesn't even care that he is gone. I like how he brings a slower approach to the song and then slowly progresses into a upbeat song when it reaches the chorus. In the chorus he brings a nice soprano voice to it and even includes a nice soprano voice in Labrinth, who essentially is John Legend. Initially I thought it was John Legend and was surprised when it wasn't. Overall an amazing song.
1.Be As You Are
Be As You Are is by far the best song on this album. It's about being yourself rather than what people want you to be. An amazing message for anyone. I strongly recommend listening to this song.
At Night, Alone was a homerun or at least I think it was. Mike Posner did a great job by mixing upbeat and sad songs. The album should be listened from start to finish to get the full affect of the album and should still be listened to at night, alone. Overall the album is a solid 9.2/10.