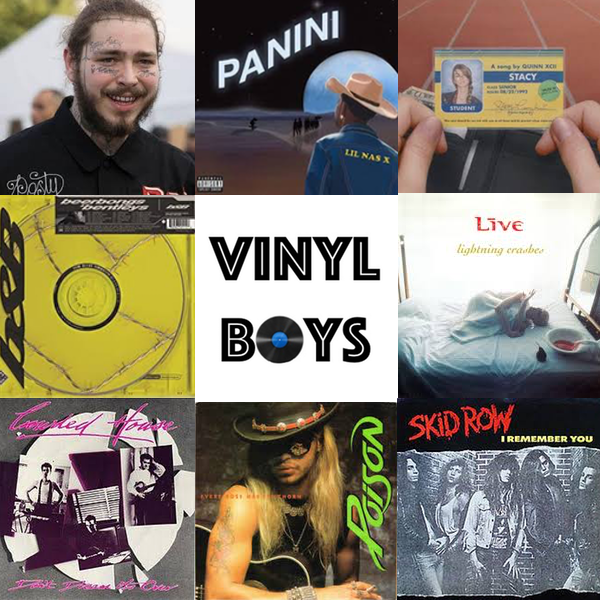 For this edition of song reviews, I wanted to add a mixture of a lot of different styles of music so the reader and the future listener of the songs, you, will get a good mix. These are also the songs I have been listening to recently and I hope you enjoy this week's edition!
Circles – Post Malone
Circles is the second single off of Post Malone's third album and is still unreleased. Circles is a song that at the release of this, has only been released via YouTube and a live performance. Circles is about trying to move on from someone but it's like a circle and you always end up thinking about them. In the comments of the YouTube someone said "Circles isn't just a song, it's an emotion," and I like that a lot so I thought I'd put that little bit in here.
Panini – Lil Nas X
Panini by Lil Nas X, also known as the "Old Town Road Guy", was requested by a Vinyl Boy fan, so I thought I'd include it in this edition of song reviews. Panini is from Lil Nas X's most recent EP release. Panini is a very catchy song overall and I believe it's about someone being contradicting or indecisive. They won't specifically tell Lil Nas X or whoever what they really want.
Stacy – Quinn XCII
Quinn XCII continues to impress me release after release. I feel like no matter what he puts out, it is a good song, whether or not it is a top hit or not. Stacy is about a fling Quinn XCII had and how the girl was embarrassed to have him as a boyfriend due to his younger age. Stacy was a senior while he was a freshman or sophomore and she didn't want to be seen with him so it was essentially a secret relationship. The smooth lyrics and catchy tune creates another massive hit for Quinn XCII in my mind. I strongly suggest you check him out because he is slowly becoming one of my favorite modern day artists.
Stay – Post Malone
Yes, yes, I know that this is the second Post Malone song on this review and the third song I've reviewed of his, but it is one of my favorites and I have been trying to learn it on the guitar recently and it's going decently I guess. We will be doing a full Post Malone album review in the near future, most likely for his upcoming studio album which is set to drop in September. Post Malone's minor hit Stay came off his second studio album beerbongs & Bentleys. Stay is about a conflicting relationship Post Malone has with someone which always involves fighting and then making up. He is offering to be there for this other person, but don't expect him to stay around because she is causing him so much pain and agony. The sweet guitar solo really brings the song together as a whole in my opinion and I'm glad that Post Malone added that into the song. The acoustic guitar part isn't super complicated but it's perfect for the song.
Lightning Crashes – Live
Lightning Crashes is another hidden "sad" song. Live an Irish rock band released this song in 1994 ahead of their 1995 album. Lightning Crashes is not in fact about a mother dying in child birth like many thing, but about a mother welcoming a child into the world while in a nearby room an elderly woman is dying. It's the circle of life at its finest. The chorus really does it for me with this song, I love it so much even from the first listen.
Don't Dream It's Over – Crowded House
This song as a whole just doesn't sound like anything I've heard before. Though Crowded House might be a one hit wonder, they really hit a homerun on this track. Don't Dream It's Over is a song about not giving up on the relationship and trying to power through. You might recognize the song by the catchy chorus "hey now, hey now, don't dream it's over, hey now, hey now." It's better if you listen to it to get the full effect.
Every Rose Has Its Thorn – Poison
Bret Michaels, the lead singer of Poison, wrote this song after a real event that happened to him. Unlike any other song released by Poison, a hard-rock band, Every Rose Has Its Thorn was an acoustic sad song. Michaels wrote this song after his long time girlfriend, who he happened to trust very much, but happened to be a stripper, cheated on him with a client she had. The rose is figuratively the female and the thorn is well her actions. So all in all every good thing has its bad thing. This song is iconic and one of my favorite car songs to jam to or a song when I'm feeling sad for some reason.
I Remember You – Skid Row
I am going to wrap this single review up with one of the saddest songs I personally know, which is a close second to the song above, I Remember You. I Remember You is a breakup song or more of the reminiscence of the relationship and what was lost. Sebastian Bach aka Skid Row is remembering all the good things that she did for him and everything that he did for her, but in the end it's just words and he can't change the past, it is over.