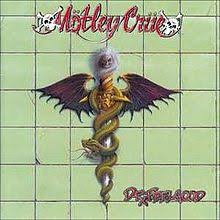 Mötley Crüe, the infamous party rockers and crazy men of rock, sure did live up to their name. Mötley Crüe started out as a club band composed of Nikki Sixx, bassist from previous band London; Mick Mars, lead guitar; Tommy Lee, drums; and Vince Neil on vocals. The band formed on the Sunset Strip in Los Angelos in the early 1980s. A few of their songs got minor radio play prior to the big release of Dr. Feelgood due to people thinking that they were a spawn of Satan. Yes, I am being serious, people thought that Mötley Crüe was working for Satan. Dr. Feelgood took off immediately following its release in 1989 at the peak of glam metal rock. The album is coming off of a tragic accident with Nikki Sixx, who had overdosed on heroine and pronounced dead for two minutes. Thankfully paramedics were able to revive him by using two adrenaline shots to the heart. Dr. Feelgood was the first and last album the band would do as a group till their return in 1996. The album tore the band apart due to Nikki Sixx demanding that everyone go "clean" from drugs and alcohol for the whole tour and album which didn't go over well with Vince Neil in particular causing him to leave after this album in 1992.
10. Time For A Change
Time For A Change isn't a hard rock song like most of the songs on the album, in fact, it is almost the exact opposite of that. Time For A Change is a song thought to be about the band members getting over their addictions to drugs and alcohol. The change did in fact happen but for only a short period of time due to Vince Neil's lack of "fun" on the tour, he decided to start drinking again and the death of his daughter shortly after leaving the band didn't help his drinking habits at all.
9. She Goes Down
She Goes Down is about, well you can take a pretty good guess on your own. Overall a catchy chorus makes for a good song. Definitely not a top track on the album but not awful.
8. Rattlesnake Shake
Rattlesnake Shake has a sweet intro rift to the song and if you know Mick Mars, you know he's known for his slick rifts. The Rattlesnake Shake seems to be a dance move, but I'm not quite sure what it is or it could just be a figurative thing meaning something else. Overall not terrible.
7. Sticky Sweet
Sticky Sweet is where the songs start to get really good. Mick Mars once again has a killer rift at the beginning of the song which he does in almost every Mötley Crüe song. Sticky Sweet's catchy hook and rift will keep you coming back to this song again and again.
6. Slice Of Your Pie
I always mix up Sticky Sweet and Slice Of Your Pie even though they are so different from one another. Slice Of Your Pie is an amazing song to jam to in the car with the quick lead guitar and jabbing lyrics combined with the bass and drums of Nikki and Tommy makes it perfect. Once again Mick Mars nailed yet another solo rift.
5. Don't Go Away Mad (Just Go Away)
Don't Go Away Mad (Just Go Away) has a sort of comedic meaning to the song. Vince just wants the girl/person most likely a girl to go away and out of his life without being mad. He is wanting to part ways with someone and of course that would make someone angry. So "Don't Go Away Mad (Just Go Away)" because either way you are going away so why not go away not mad.
4. Without You
Without You is a rather sad song which is unlike of them to release. Without You is about what life would be like without the person you love and only Vince could say it better "Without you in my life, I slowly wilt and die" so essentially he can't live without you. Vince wrote the song after he noticed the relationship between band mate Tommy Lee and then wife Heather Locklear. The relationship was all good until a release in a magazine with images of Tommy Lee with another woman surfaced. Without You is the perfect slow jam to put on with your significant other over.
3. T.N.T (Terror 'n Tinseltown)/Dr. Feelgood
T.N.T is just an intro song that plays into Dr. Feelgood, so I thought I'd just include the two together. Dr. Feelgood is a fast paced hard rock song that is said to be about a drug dealer they call "Dr. Feelgood" He makes them feel "alright" and "upbeat." Overall one of my favorite songs of all time with once again another beautiful rift from Mick Mars.
2. Kickstart My Heart
Kickstart My Heart is actually about the time Nikki Sixx had to get his heart kickstarted after overdosing on heroine. Nikki Sixx immediately wrote this song after the situation that happened. Kickstart My Heart is the hardest rocking song on the album that deserves to be played on full blast with the windows down and you screaming at the top of your lungs. This song will definitely wake you up in the morning.
1.Same Ol' Situation (S.O.S.)
Though not originally stated what the song was about, Vince Neil recently came out saying that the song is about losing your girlfriend to another woman. He said "it happens, you might not think it does, but it does." Not quite sure if this is about a personal situation or a figurative thing that happened. Overall it was my favorite song of theirs from the start and I think it will stay in the top spot for a while.
Dr. Feelgood is just hit after hit after hit. I can't express how good this album is and deserves a solid 9.5/10 rating. They never seem to disappoint me and this album was well short of being disappointing.