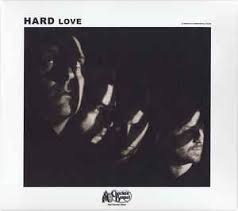 HARD LOVE is an album released in 2016 by the Christian rock band NEEDTOBREATHE. To me, it's doesn't have like the stereotypical worship sound to it. It's got a kind of electronic/rock feel which I absolutely love. I've only been into the band for about two weeks and I can't get enough of them. For me, it's like just real music if that makes sense. This is a rating of the album in my opinion now, but the more I listen to it, it could change.
12- MOUNTAIN, PT. 1
I mean this isn't really a song song. It's just a trippy intro to the album which sets it up in I what I think is the best way possible. It's super epic but doesn't really deserve a high ranking.
11- CLEAR
The piano at the beginning of the song is really pretty. I honestly don't know this song that well but I think it's good all in all.
10- LET'S STAY HOME TONIGHT
Ok, I don't really think this song fits the band or the album. It just doesn't really sound like their sound if that makes sense. I'm not saying I don't like it though.
9- NO EXCUSES
I LOVE the ukulele in this song. A lot of rock bands don't have that and it's cool to hear it. This is honestly just a beautiful song and was actually the second song I heard by NEEDTOBREATHE.
8- TESTIFY – If anyone reading this is a NEEDTOBREATHE fan at all, they're probably going to be upset that I put this song so low. It's one of their most popular songs. I don't have anything against it at all, but when I listened to it I just didn't really get any kind of feeling at all.
7- GREAT NIGHT
This is really similar to DON'T BRING THAT TROUBLE. The guitar is super muffled and distorted which gives it like a twangy feel which then goes along with the lyrics in the chorus. Everything just kind of fits together.
6- BE HERE LONG
This is one of those songs that you just close your eyes and take in the lyrics. I think it's definitely the most worshipy song on the album which is nice because it reminds you that NEEDTOBREATHE is a Christian band.
5- DON'T BRING THAT TROUBLE
Being the most rockfish/alternative song on the album – I love it. I really like the tone of the guitar throughout the whole song.
4- HAPPINESS
I love the choir at the beginning of the song. It's so – epic. That's the only word I can think of. The chorus is just so incredibly soulful and powerful. Every time I hear it I'm like…dang that's really good.
3- HARD LOVE
I'm a huge fan of the intro/riff at the beginning. It's super electronic but still has feel to it. The verse is super powerful and leads straight into the chorus beautifully.
2- WHEN I SING
The feel of this song is the reason it's so high up on the list for me. It starts off like kind of intense and the chorus lays it out. I really like the background that goes like do do do do. I think it adds a huge part to the song.
1- MONEY & FAME
Ok…this song, this song is amazing. It's was THE first song that I heard by them and I literally couldn't stop listening to it. It's amazing if you didn't hear me say it the first time. It starts with like an orchestra and then explodes with trumpets and a sick guitar lick. Also the chord progression just makes you want to bop. It's obviously my favorite on the album and definitely my favorite song by them. You need to listen to it now to understand what I'm saying.
So yeah I think this is an awesome album. I hope that you can get into the band and I know I can't wait to listen to the rest of their discography.