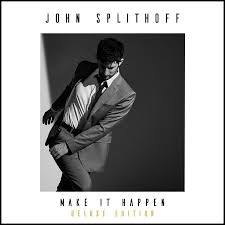 I haven't know John Splithoff's music for super long. He's honestly not super popular, and I first heard his music in a set of headphones at Costco. I really liked him so I looked him up at home and did some heavy listening of his EP. I think he may have a couple of singles but he doesn't have that much music. With that, I really got a feel of his sound and songwriting style, and I'm a big fan of his stuff. He's got like a really cool pop/soul sound that's different than mainstream music. This isn't a ranking based on favorites and is in the order of the EP.
1.Sing To You
This was the first song I heard by John Splithoff. I definitely knew that he really understood how to write a good song when I heard it. I think that this song has a certain way about it. It's super feel good, upbeat, and soulful. The message of the song can put you in a really good mood.
2.Make It Happen
This song is also pretty similar to the first. It's kind of got the same feel to it. I think that the best part about these two songs is the chorus. It really just sells what the song is going for. This one is probably a little less poppy and more soulful.
3.Spotlight (Girl Next Door)
This song has got a completely different vibe. When it starts you're like – WOAH – that's a little different. I really like it though. It seems to have a subtle Hip-Hop/R&B feel to it. It's also super groovy.
4. Show Me
I have mixed feelings about this song. The reason I say that is because it initially doesn't seem to fit his sound. But when you get to the chorus , you kind of forget that. Overall, it has a really short, but good chorus. The rest of the song doesn't really fit the EP.
5.Raye
On the other hand, I'm a really big fan of this song. Right off the bat, it has a smooth feeling to it. The rest of the song continues to just be really – well – smooth. That's the only word I have to describe it. It's also got a sweet guitar solo that has to make it my favorite on the EP.
6.Leave It All Behind
I think this is a great song to end with. It's got an incredible soul/gospel feel that tells you that the EP is over. That sounds kind of dumb, but it's true.
All in all, I'm a really big fan of John Splithoff and his music. I really hope that he puts out a full album soon with some new songs to review.