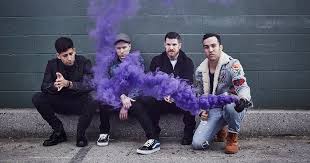 Fall Out Boy is an American rock band who was formed in Wilmette, Illinois just outside of Chicago, in 2001. Fall Out Boy is led by lead vocalist and rhythm guitarist Patrick Stump with Pete Wentz on bass, Joe Trohman as the lead guitarist, and Andy Hurley on drums. The band initially came on as an early 2000s punk rock band which was common for the era of music. In the early 2000s Fall Out Boy as well as other punk bands such as blink-182, Green Day, Sum 41, Good Charlotte, and My Chemical Romance found their sound and soon gained a large fan base. Fall Out Boy's debut album, Take This to Your Grave, was released in 2003 and with the heavy touring that was done after the release made the album an underground success spawning the first of Fall Out Boy's fan base.
MXLLS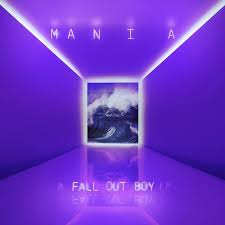 ​​They are still yet to have a number 1 hit on the Billboard Hot 100, but they have had four songs placed in the top 10 and nineteen songs in the charts altogether. The past four albums have reached the number one spot and though not achieving a number one hit to this day, Fall Out Boy has had more success than most bands or artists can say they have ever had. They have consistently put out quality music and it shows in their growing fan base and the constant reappearances within the charts. Fall Out Boys most recent album was released on January 19, 2018 and goes by the title MANIA. So far MANIA hasn't produced a Hot 100 song but as an album it has already reached the number one spot. The past three albums Fall Out Boy has released has shifted their genre from a punk rock band to a pop rock band which there isn't much of a difference. The Fall Out Boy fan base has responded well to the slight shift by continuing to support the band, through hell or high water.
10. Church
Church is a sort of love ballad if you want to call it that. He compares the church to a girl and that he would get on his knees to confess his love to her. Overall it is a good song with a catchy chorus and a good beat, but respectively sits at #10 on the ranking due to the powerhouse of this album.
9. Bishops Knife Trick
Bishops Knife Trick starts out slow, but gets good when the beat drops and the instruments kick in. Some say that this song is Fall Out Boy's way of officially saying goodbye to their old style of music and shifting to a more pop rock and electronic type of sound. In the song, specifically in the chorus, Fall Out Boy references the change of style by the lines "These are the last blues we're ever gonna have" and also "The glow of the cities below lead us back to the place that we never should have left." He may be comparing the city to their old style of music and that they are leave it now, but they will never forget and eventually return to their original music.
8. Champion
Champion is a very inspirational song. The song helps people get up when they are down, Fall Out Boy repeats over and over again "If I can live through this I can do anything." This relates to many people in the world who want to give up or stop trying but if you get through the hard parts in life, you are ready for what's ahead of you whether good or bad. Once again a great song, I'd recommend adding this song to a pregame playlist or a workout playlist. It will really get you hype and get you to push yourself just a little harder.
7. Heaven's Gate
The song starts out as a slow song like a few of the songs on this record. The beginning of the song solely showcases Patrick's voice with the always good, classic piano. Once again I'd consider this a love ballad. The song is very different than any other Fall Out Boy songs I've heard and that's what I like about it. I strongly suggest listening to this even if you don't like Fall Out Boy that much, because it gives Fall Out Boy a new sound and a new style they could use for songs in the future.
6. Sunshine Riptide
The song starts out weird and if you don't like it at the beginning give it a chance it gets better. The song is actually a sad song. The song is about a girl that used him for who knows what and can't get over her. Every time he gets close to being over her and into the "Sunshine," he gets pulled back in to her aka the "Riptide." So essentially, he doesn't want to love her but he does. A sad scenario if you think about it, but I really like it.
5. Young And Menace
Young And Menace is a different song, I'll just leave it at that. It starts out with a slow rock type of feel and then they flip a switch and boom, goes right into electronic and then the switch is hit again right into the slow rock. I can't tell but it may have a Brittany Spears reference. Not sure if it was intentional or not, but it is in the song. I'll make you listen to the song to figure out the reference and I'd also recommend adding this song to a pregame or workout playlist.
4. Stay Frosty Milk Tea
The title of the song pretty sums up the whole song… AMAZING! I don't believe the song says Stay Frosty Milk Tea once throughout the whole song but I don't think it needs to. Another classic song from Fall Out Boy and a great way to kick off their album.
3. HOLD ME TIGHT OR DON'T
Another kind of weird love song by Fall Out Boy, but really good nonetheless. Not much to say about the song, just that it is a good upbeat and catchy song.
2. The Last Of The Real Ones
The Last Of The Real Ones has been played nonstop on the radio for the past 3 months and it is well deserved. The song is very upbeat and very catchy. I'd imagine that you have heard it before, but I could be wrong. I say go check the song out.
1. Wilson (Expensive Mistakes)
A lot of people wouldn't have put this as their #1 spot, but I think this song stands out above all the others. It is a very strange song, but it is about him always wasting his money essentially. I'm not sure what the "Wilson" in the song title represents. It could be a name of somebody he spent a lot of money on, it's hard to tell. I highly recommend this song.
MANIA surprised me. Initially I didn't like the album that much, but I gave it a chance and listened to it few times and I was amazed how my opinion on the album changed. You can tell they worked hard on the album, making it the best they could and it shows in the lyrics. Please go and listen to the album from start to finish, no shuffling through the songs, and I hope you will see how amazing the album is. I'd give the album a 4.5 out of 5 and personally I believe that this is the best Fall Out Boy album out to this date or it is tied with American Beauty/American Psycho which is also a really good album. Check both of them out!