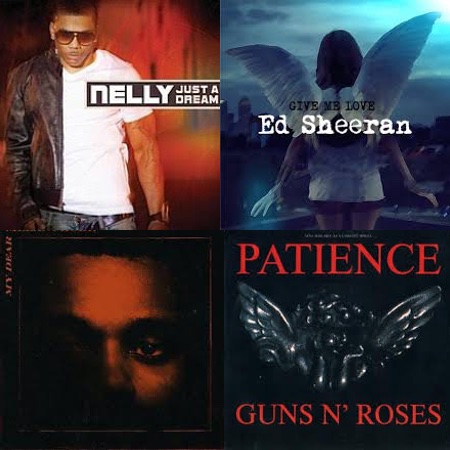 Sorry for the short leave of absence, the past two weeks we have been focusing on the deliverance of our new shirts and the release and recording of our two newest episodes of our podcast. We hope you enjoy everything we have been releasing recently and will continue to support us.
-Vinyl Boys
Give Me Love – Ed Sheeran
Give Me Love is an 8 plus minute love song that is from Ed Sheeran's debut album. Give Me Love is a song that helped him discover his sound and what he wanted to do with the guitar. Ed Sheeran just wants someone to give him love like the person that he was with before did and you can really here the agony in his voice when he sings it. If you want to get into your feels this might be a song for you. A song about getting drunk and trying to get over someone is a tough one to listen to unless in the proper mood.
Call Out My Name – The Weeknd
Call Out My Name was the first song off of The Weeknd's surprise EP release from March of last year. Call Out My Name as well as many of the other songs on the album are sad love stricken tones, which all seem to revolve around his former girlfriend, Selena Gomez. Call Out My Name is no doubt about her or at least part of it is. He used the lyric "I almost cut a piece of myself for your life, which seems to be about Selena Gomez because he offered to give her his kidney when she needed the transplant, but maybe that's just a prediction to the meaning. Call Out My Name as a whole is similar to his other releases yet so different. He isn't the upbeat pop and R&B icon in this song or in this EP and I strongly suggest you give it a listen.
Patience – Guns N' Roses
Patience was the first song off of GNR's sophomore album and with its stripped down acoustic sound, it really drew some attention from the Appetite For Destruction fans from the previous year. This song proved that GNR was more than a hard rock band and they had the potential to do so much more and they proved that later in the 1990s with the release of "November Rain" and also "Civil War." Patience is about struggling to wait for that significant other that you want right now. For whatever reason you can't have her/him at the moment. No matter how Axel Rose tries, he can't seem to shake this girl from his mind because he believes they have "what it takes to make it." If you are used to the radio GNR then you should give this song a listen because it's the exact opposite.
Just A Dream – Nelly
Just A Dream was always one of my favorite songs as a child. I even remember listening to it on repeat for a solid 3 hours on a road trip, so of course I know all the lyrics to it. Just A Dream is a sad love song from Nelly about having to try and live without the person you love the most. He is going through all these scenarios in his head and how he can't get her out of his head. In the end, Nelly wakes up from his "dream" and realizes she is still sleeping beside him and the relief floods over him. He came to the realization in the song that he doesn't ever want to lose this girl. A sad and scary song to some degree, but it ends in a joyful way.