Dear Reader,
Single Sunday is a new weekly thing that we will do along with album reviews. Every Sunday, there will be a collection of singles, usually 1-3, that will be a quicker, easier read for your leisure filled Sunday. Single Sunday aims to be a more fact and background based information about the artist and the song, though it still has a song review feel to it. We hope you enjoy the 3 singles that have been selected which include: Nothing Compares 2 U by Prince, Ain't Scared by The Tragic Thrills, and 1985 by Bowling For Soup. Enjoy!                                                                                                                                                                                  
-Vinyl Boys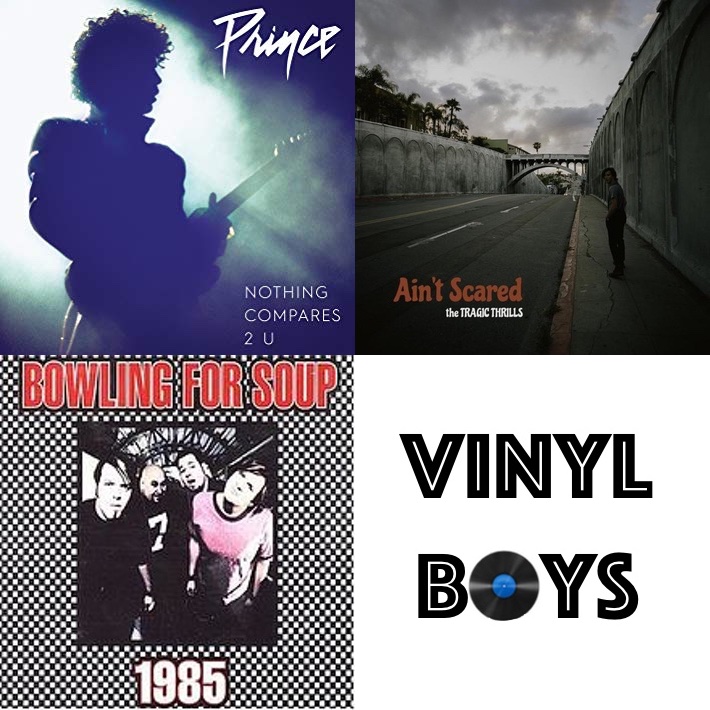 Nothing Compares 2 U – Prince
Prince released a new single on April 19, 2018, almost 2 years since passing away. The song was initially written for and released by Sinéad O'Connor. You may also know O'Connor from her blowup on Saturday Night Live, where she ripped up a picture of the Pope. The song peaked at #1 on the Billboard Hot 100 for O'Connor. Prince released his version of the song that was recorded in 1984 around the time of the release of his chart topping album Purple Rain. In my opinion, Prince's version is better. It fits his style of music and is another classic love ballad from the love ballad king, Prince. Interesting fact about the songs, Prince in the beginning says "It's been seven hours and thirteen days" whereas O'Connor says "It's been seven hours and fifteen days" and there is your fun fact of the day. I did some research about why the lyric was changed but found nothing except that Prince was not too thrilled about Sinéad O'Connor or anyone covering any of his songs.
Ain't Scared – The Tragic Thrills
The Tragic Thrills are a lesser known Indie/Folk/Alternative musical group and I have enjoyed all of their releases up to this date. The band was formed in late 2012 by Zach Porter, who's previous band had just broken up. Zach Porter's previous band had a great deal of success and they went by the name Allstar Weekend. Allstar Weekend was the first winner of Disney Channel's Next Big Thing also known as NBT which started the success of the band. After 3 popular full length albums and 2 EPs, the band decided to separate and do their own things. Now, the band members all have their own musical careers and are doing well. Ain't Scared was the second single released from The Tragic Thrill's second full length album, On Florence Street. The single was released on June 28, 2016 around 7 months prior to the final album's release in late January. The song didn't necessarily top any charts, but is still a solid song. Ain't scared is the most successful song from the album. The Tragic Thrills continue to put out good music and I recommend this song and any of The Tragic Thrills songs.
1985 – Bowling For Soup
Bowling For Soup's first single off of the album A Hangover You Don't Deserve was 1985. 1985 was originally recorded by SR-71 and was covered by the band in 2004. The song wasn't a chart topper by any means but still ended up peaking at the 23rd spot on the Billboard Hot 100 charts and had more success than the original version. Bowling For Soup could be seen as a one hit wonder and I can see how you could say that. 1985 was really the only "popular" song they had besides the song High School Never Ends which was featured on Radio Disney. Nonetheless, it is a very catchy song with a great chorus and was a staple song from my childhood.