Sorry for no review last week, we were really busy and couldn't manage to get one released. Hope you can forgive us, enjoy the new review!
– Vinyl Boys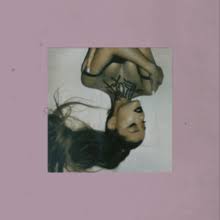 ​​ Ariana Grande released her fifth studio album, thank u, next, on February 8, 2019. It was the follow up album to her hit album Sweetener which was released in August of 2018 so it was a quick turnaround for Grande. She hinted at the possible album's release with the release of her first single from the album titled thank u, next which gained a lot of success. The next two singles gained minor success compared to thank u, next, but after the release of her third single, 7 rings, she officially announced the album and the release date, February 8, 2019. The album had immense success from the beginning with three top 10 hits and all twelve songs peaked within the top 50 of the Billboard Hot 100 which is very impressive for a single artist on one album.
12. needy
Needy is the follow up song to imagine on the album and it isn't that needy is such a bad song, it's that it doesn't stack up very well to imagine. If you are listening to the album start to finish, needy is a let down while following imagine. It has a hypnotic beat but I don't see this one becoming a big hit off of this album.​​
11. break up with your girlfriend, i'm bored
I'm honestly surprised that this song peaked so high on the billboard charts, but at the same time I'm not. The song has everything that a top song usually has which is a catchy hook usually in the chorus, a melodic beat which it also has, and very repetitive which once again it has. It just isn't my type of song that I'd listen to more than once, but if you are into that type of music maybe this is a good song for you.​​
10. bloodline
Bloodline has a catchy beat and catchy lyrics, but just doesn't stick out as something that will go viral and become a top hit. I like the background instrumental work in this song, a good addition to the song.​​
9. in my head
In my head sits in between two of the main tracks off thank u, next and doesn't have any wow factors to make it stand out as a popular Ariana Grande song. It sounds like an outtake from Sweetener, it has the same sort of vibe that the album gave off which I wasn't too keen of.​​
8. fake smile
I enjoyed the song for the first 30 seconds with the old time feel with the record crackling sound in the beginning and then it got to the part where she made the "weird noise" and I wasn't too keen on the song anymore. I still don't hate the song, I actually quite enjoy the chorus, but it got moved up on my list because of the noise she made, but if you can look past that then this might be a song you enjoy.​​
7. bad idea
Bad idea is the first song on this list that I could see being a success. It has a catchy tune and beat with a relatable chorus. The song is sort of self-explanatory but overall not bad.
6. make up
Very repetitive but overall not terrible. The song once again is pretty self-explanatory.​​
5. NASA
NASA reminds me of a lot of old Ariana Grande that was solely a pop artist and back when rap wasn't as prominent. Because of that this song really sticks out on the album; it uses less effects to her voice and excess beat that makes the song sound perfect. The song is definitely one that will be played more than once at least for me anyways.​​
4. ghostin'
Ghostin' is another song that sounds similar to the old Ariana Grande and by older Ariana Grande I mean pre-Sweetener and maybe even pre-Dangerous Woman. Overall a very good song.​​
3. imagine
Imagine is the third single from the album and just like the other two, it didn't disappoint. Though impressive, it wasn't as good as the previous two singles.​​
2. thank u, next
Thank u, next, was the first of two #1 hits on the album. Thank u, next, also the title track, brought a lot of attention to the release of her album. In the song she mentions her past relationships which brought her a lot of fame because of it but also a lot of heat, but overall a very good song.​​
1. 7 rings
I don't care what you say, 7 rings IS the best song on this album. That's all I have to say about the song because I'm sure you have heard it and will hear it for many years to come.​​
Overall the album wasn't awful, but at the same time it was sort of a letdown. It had a lot of potential to be something great with the success of the three singles, but besides those three songs the album doesn't stand out. It's another one of her albums that has 5 or 6 good songs and the rest of the songs don't seem like they are in the same league as the others. But don't get me wrong 5 or 6 good songs on an album is a very big feat, but for an album that was so hyped up, 5 or 6 good songs just seemed underwhelming. I'd give the album a 6.5/10 which is a respectable score.