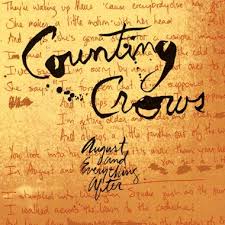 August and Everything After was the first studio album release from the Counting Crows. The album was released on September 14, 1993 and drew a great amount of success from the launch of the album due to the hit single "Mr. Jones." Though being a hit, the song never made it to the Billboard Hot 100 Charts. August And Everything After managed to peak at #4 on the Hot 200 and still stands to this day being their top selling album. Counting Crows still make music today with their last album coming out in 2014, but they have hinted at a new album coming very soon.
11. Ghost Train
The "Ghost Train" appears to be the inability to find love. The Train might signify the twists and turns of love and the Ghost might signify the nonexistence of it. Ghost Train is essentially a conversation between two people, a male and female, on this Ghost Train for love. That's just how I take the song and its meaning, maybe you have a different one. Overall not a terrible song, just not my favorite
10. Rain King
The overall fun and upbeat tone of this song put this song in the 10th spot rather than the 11th spot. I don't really understand the concept of the song of the "Rain King." The song is about belonging in a community and that he is the Rain King? Not sure what the Rain King is, but maybe you all can fill me in if you know. Yes Noah, I'm asking you.
9. Time And Time Again
Time And Time Again is one of the more somber songs on the record. The song is about wanting to see everything happen again and again to try and cope with the loss of his significant other. He is waiting for this person to come back and while he is waiting he is replaying his memories of her over and over again, but in reality she is not going to come back. One of the hidden gems on this record. You should check it out.
8. A Murder Of One
This song seems to be about a former boyfriend/girlfriend wondering how their ex is doing with their new boyfriend/girlfriend. The former boyfriend/girlfriend seems jealous in a way and doesn't think that this new relationship is real. Not sure where the title comes in, maybe the murder of one is the person in the new relationship. The perspective Duritz is singing from makes it seem like they think their ex is wasting their life. It is a very upbeat song and I like it a lot. Give it a listen!
7. Round Here
Round Here follows the life of a girl named Maria. Maria goes through a lot of ups and downs until she eventually threatens to kill herself by jumping off of an object. Round Here seems to signify her town that she is living in and Maria feels like no one cares about her and suicide is the only way to get attention. A very somber song, but a very good one nonetheless. Duritz does a good job of telling the story of this girl with his altering of his voice to show pain and agony when the time is fit for it.
6. Perfect Blue Buildings
The song, Perfect Blue Buildings, is about being on the road and the difficulty of it. He tries to cover up his pain of being away by drinking and drug usage. The Perfect Blue Buildings are said to represent hotels/motels that they would stay in on the road. I like the slow melodic sound that Perfect Blue Buildings brings.
5. Anna Begins
I learned while doing research on this song that Anna is a real girl that Duritz fell in love with who then later broke his heart. Anna Begins is a song about denial. The denial of the relationship just being a fling and that it will never amount to much. That's exactly what Duritz was doing with this Australian girl, Anna, in 1993. Though Anna is real, the song is really about Duritz still. The song is a very slow and relaxing song with an overall hidden message of sadness.
4. Omaha
Omaha is about the constant changes in life. Duritz said when he was writing the song that Omaha just kept popping into his head so he decided to use it in the song. He always liked to think about the sheer size of the country and Omaha just happened to be the center of the country. This slow rock song reminds me of a R.E.M song and a matter of fact, R.E.M. did a cover of this song.
3. Sullivan Street
Sullivan Street is a depressing song that hits your heart in different ways. Sullivan Street is a song about the inevitability of leaving. You know the relationship isn't going to last but you want to soak it in as long as you can. So you are constantly seeing her whenever you can and so on. Overall one of the best songs on this album.
2. Mr. Jones
As much as I love this song, I had to put it at the second spot. Mr. Jones was originally speculated to be about Duritz's genitals, but Duritz later released that the song was not about that but in fact about his friend Marty Jones. Jones always had a way with words with women and Duritz wished he could be like that. He thought being a rockstar would help him and his friends get more girls. Overall one of my favorite songs of all time.
1.Raining In Baltimore
Raining In Baltimore is the saddest song on this album by far and surprisingly overtook Mr. Jones as the top spot. With Duritz being from Baltimore, this song could be an analogy for him. The man Duritz is singing about is lonely and in the middle of nowhere. He wants to call the person he loves or try and replace her with objects. In the end, nothing works and he just continues to be lonely. The "Raining In Baltimore" title fits the setting and the emotions of the character who is just searching for happiness but all he is receiving is hypothetical rain. An amazing song and one to add to your sad playlist if you have one.
Counting Crows surprised me with this album. Prior to listening to this full album as a whole, I believed that the Counting Crows were a one sided bad that only produces fun poppy songs for the radio due to Mr. Jones. After listening to this album, I have realized that they a multifaceted and have many different emotions as a band, which I think is a most have for any band. August And Everything After is an album that I will listen to again and again. I rate it an 8.8 out of 10, which is a solid score nonetheless.