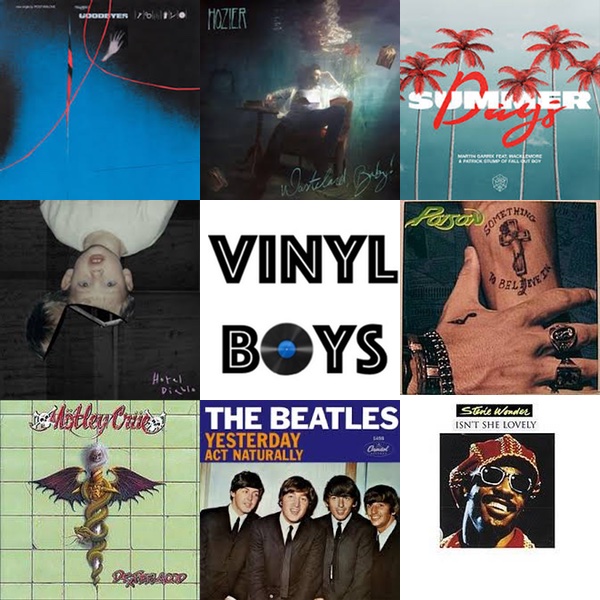 Goodbyes – Post Malone w/ Young Thug
Post Malone did it again with another love pop song. Goodbyes has the signature Post Malone sound with the catchy hook followed by the quick sad voice lyrical sound. If that doesn't make sense just give the song a listen and you will hear it. The underlying meaning of the song centers around wanting someone to get out of your head, but you just can't get them out because you care for them so much. I really like this song and can't wait for his third studio album which will most likely include this song.
I Think I'm OKAY – Machine Gun Kelly w/ YUNGBLOOD & Travis Barker
This song from MGK is a different sort of song from him. It has a very punk rock, early 2000s, music vibe coming from it. I Think I'm Okay is the lead single from his new album Hotel Diablo. The song seems to be about continuously ruining a situation that you always seem to get yourself into. YUNGBLOOD was a perfect feature for this song with his hoarse vocals which really put the esthetic of being a 2000s rock/punk song. Overall a very good song.
Summer Days – Martin Garrix w/ Fall Out Boy & Macklemore
This song seems to be the summer tune of 2019. I love the usage of Fall Out Boy and Macklemore in this song and the production by Garrix is perfect. The song is just about living in the moment and don't worry about the future. I wish the song was a little bit longer, but all in all a good song for what it's worth.
Almost (Sweet Music) – Hozier
Almost (Sweet Music) was one of the collection of singles that Hozier released to advertise his much anticipated sophomore album. Almost (Sweet Music) is the catchiest song on the record and by far his top song to this date. I strongly suggest that you check out Hozier no matter what genre of music you are in to because everyone has a little bit of Hozier in them. The song is about trying to replace someone in your life with someone else. It is almost the perfect replacement for that person, but then you find that flaw to make it that "almost" the perfect match.
Kickstart My Heart – Mötley Crüe
Kickstart My Heart was one of the hit songs from Mötley Crüe's fifth studio album, Dr. Feelgood, which put Mötley Crüe into stardom. The song was written after the near death overdose on heroine by the band's bassist, Nikki SIxx. Nikki Sixx had to physically have his heart "kickstarted' on the way to the hospital with two adrenaline shots in the ambulance and was even pronounced dead for 2 minutes. This upbeat song will keep you pumped and on your toes for the full 4 minutes and 43 seconds.
Something To Believe In – Poison
Poison's hit, Something To Believe In, is the perfect sad song to listen to at night when you are alone. The song is about dying too young and not enjoying your life. Which we have seen many young famous actors/musicians die due to overdose and suicide, so this song is still very relevant to this day. The song was inspired by Bret Michael's bodyguard passing away unexpectedly.
Isn't She Lovely – Stevie Wonder
Stevie Wonder's hit Isn't She Lovely is a song you just sit and groove to. The beat and vocals really bring together a song about an amazing person in his life. I don't really have much more to say about this song because I'm sure you've heard this gift from God.
Yesterday – The Beatles
In celebration of the new Beatles inspired movie, Yesterday, I decided to do the Beatles song, Yesterday. I highly recommend going to see the movie though. McCartney the author of the song says the song came to him in his sleep. Once he woke up he quickly ran to his piano to not forget the melody. Yesterday immediately became a hit. The song is about a break up, not that McCartney had, but just a break up in general.
Below is a link to a playlist which will be updated every time we do a review on a collection of songs. Since this is the second collection of singles we have done, the playlist will have 3 extra songs from our first single review! Enjoy!