This review is on the top ten greatest albums in my opinion. The ranking isn't based on any statistics and is solely what I think.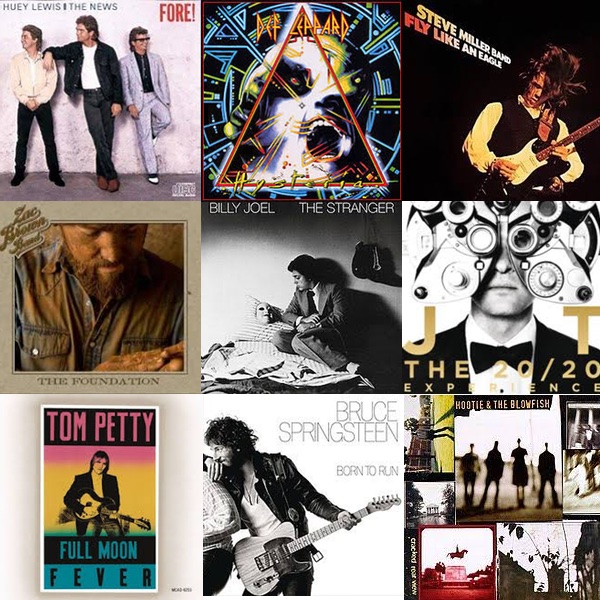 10. Fore! – Huey Lewis and the News (1986) 
Hence the name of the album, Fore! was the bands fourth album. It was the follow up to their third album, Sports, which they are easily most known for. I don't know how they did it, but somehow they were album to record another mega hit album that was even better than the first. The album had two number one hits out of their three. Honestly, the whole album just has a fast-paced, good feeling.
9. Hysteria – Def Leppard (1987)
Def Leppard has got to be one of my favorite rock bands. Hysteria is what really got the ball rolling for them. It's got several hits including some of their biggest songs. Oh yeah, and the album cover is classic.​​
8. Fly Like and Eagle – Steve Miller Band (1976)
Like most of these albums, I've written a review on them before; so its no surprise they ended up on the list. The album shows a little bit of every genre making it exciting to listen to.​​
7. The Foundation – Zac Brown Band (2008)
I've known this album forever. It was something that I always listened to in the car when it first came out. I remember listening to it for the first time in a few years and it was like I remembered every song. The band along with the album is primarily country, but some of the songs have an "island" vibe to them.​​
6. The Stranger – Billy Joel (1997)
I think this album is kind of underrated. People know and like his 70s music, but his 80s and 90s stuff is definitely more popular. This album has a really chill vibe. It's got some slow songs, fast songs, and even jazzy songs.​​
5. The 20/20 Experience – Justin Timberlake (2013)
This is another album I've known for a while. Honestly, this is probably the weirdest out of the of the others. Listening through the whole album is, well an "experience" (get it). You have to listen all the way through it to get a feel for it. Most of the songs have a R&B-ish feel to them. Others have a weird techno feel to them. And then there are the pop hits of the album.​​
4. Full Moon Fever – Tom Petty (1989)
I've also written a review on this album. It's kind of the unofficial Traveling Wilburys vol 2 album if you look at who played the instruments on the back of the album (Roy Orbison, George Harrison, Jeff Lynne). It's also got a laid back, easy listening feel to the whole album.​​
3. Boston – Boston (1976)        
For me, this is the definition of rock n' roll. I don't know what it is about this album but it's got something to it. It may be the guitar riffs or it may be Brad Delp's unique voice. There just something about it that makes it really good. Just like Hysteria, the album cover is sweet.​​
2. Born to Run – Bruce Springsteen (1975)
Oh boy is this good. It took me a while to get into Bruce Springsteen. I knew some of his stuff and I felt like he wasn't my style. I gave this album a thorough listen and it completely changed the way I viewed music. It quickly became one of my favorites and will always mean something important to me​​
1. Cracked Rear View – Hootie and the Blowfish (1994)
This is another album that's always been in my life, but the thing about this one is, I'm not really sure how. One day probably about a year ago I heard it playing somewhere and I instantly knew it. I think the song "Let Her Cry" was playing and I knew that I knew it. I looked up the band and listened to the rest of the album and recognized some other songs. I think the album was something that I was introduced to at an early age and it just stuck with me. Today, Hootie and the Blowfish are definitely my favorite band. I like their whole feel and this album tells everything about them.​​