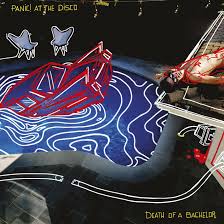 Death of a Bachelor is an album by Panic! at the Disco released in 2016. It was their 5th album and their 2nd album with Brendon Urie being the only member of the band. It's most definitely my favorite because it's the album that got me into Panic! Here's a ranking of the album from my least favorite to favorite.
11. Crazy = Genius
Honestly I'm not a fan of this song. It's super wild and I don't really enjoy listening to it. It reminds of something that would be played at a carnival.
10. Emperor's New Clothes
In my opinion this song is more popular than it should be. I just don't like it. I can't understand any of the words in the chorus and I don't like the whole feel of the entire song.
9. Impossible Year
I haven't always liked this. It kind of just seemed boring to me but the more I listen to it I love it. I would describe it as almost like a crooner ballad type thing which is awesome.
8. House of Memories
This song is definitely the most alternative on the album in my opinion. The chorus sounds kind of haunting which I think is really cool.
7. Golden Days
I love this song so much. To me it's like Brendon Urie telling a story to someone. The chorus is just really powerful to me.
6. The Good, the Bad and the Dirty
This song is epic. There's like a deep sounding orchestra in the background that really adds to the song.
5. LA Devotee
This song was my favorite on the album for a good amount of time. I really like how upbeat and exciting it is.
4. Victorious
This is a great song to start of the record. It opens up the record and gives it a feel that's throughout the rest of the album.
3. Don't Threaten Me with a Good Time
I love the bass line of this song. It's all you need to hear to know what the song is and how it sounds.
2. Hallelujah
This is such a good song. I love everything about it. When I was first listening to the album I always skipped it but then I decided to listen to it and I couldn't stop. I just put it on repeat and listened over and over again.
1. Death of a Bachelor
Now, this is really my favorite Panic! song ever. I first heard it in band class like three years ago and really liked it but it literally took me like a year to look it up. Then when I finally did I realized that I really really liked it. It also took me about another year to take the time to listen to the rest of the album which I obviously love. The song is just so good. It's got some really good bass and some sort of like trap stuff to it. The chorus is the best part of it and you definitely need to listen to it right now if you never have.